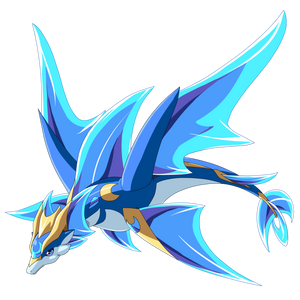 "It is said that Lundra can navigate space and oceans. This monster is so powerful and rare to see that many people believe its existance is just a legend."
Basic info
Stats
Lundra acquires the following Health Points and Attribute Points per level:
Level
Health

Points

Attribute

Points

1
60
6
2
66
12
3
73
18
4
80
25
5
88
32
6
97
39
7
106
48
8
117
57
9
129
68
10
141
80
Moves
Lundra will learn the following moves when leveling up:
Skins
Lundra has no available Skins yet.
Strategy
Lundra is an amazing defensive monster that can still dish out decent amounts of damage. Lundra is an essential part of any defense-oriented team or defensive backbone, only feeling out of place on hyper-offense teams. Remember to play with that defensive slant in mind, as Lundra is very much a reactionary monster, not a proactive one. Let them come to you and punish their every move.
Recommended Set:
Usage Tips:
Favorable Matchups
Bistrong: This is the hardest Bistrong counter in the entire game. It can Fly over Body Slam or simply Freeze Bistrong in its tracks, and outheals Cookie Beam with Healing Bubble. Bistrong literally has nothing on Lundra.
Moneko: Lundra has no problems dodging both Paw and Kattogan, which are easily Moneko's most dangerous options. While Kattoball is still strong, it's no match for Lunda's high health and Healing Bubble, or for Freeze since it destroy Kattoball projectiles. Lundra will take a decent amount of damage, but should still win every time.
Aviatos: Lundra can Fly over Aviatos' Hurricaine, and Aviatos doesn't do enough damage with Fly alone to outdamage Healing Bubble considering that Lundra can also dodge Fly. If the Aviatos goes for Lightweight, it will be smashed by a properly timed Freeze, killing it almost from full health.
Triptower: The 10 attribute points in water allows Lundra to actually heal more damage than Poison Powder deals. Lundra also doesn't really care about Sleep Powder or Dizzy Dance either. The only move to watch out for is Leech Root, make sure to always Fly to dodge that one.
Warzero: Warzero just can't really hit Lundra, and can't gain an energy advantage even with Super Ki Regen. Keep track of their energy to allow you to dodge Energy Ball as well. Lunda is also one of the best monsters in the game at stalling out Final Rush.
Checks and Counters:
Malkid - Counter: Lundra has no good way to hit Malkid. Even if Lundra does end up landing the occasional hit, Malkid can usually just heal it off with a stolen Healing Bubble. To make it even worse, Malkid absolutely loves to use Lundra's moves with Copycat. Your best option is to hope your opponent messes up and forgets about Meteor Rain so you can land some damage; however, hoping your opponent messes up is never a viable strategy.Another strategy to kill malkid is by using Echo'ed Freeze which is 50% faster and can kill malkid with one hit.
Geosion - Counter: This is only the Inferno set. Lundra has an amazing matchup into the Fireball-Stoned variants, but more often than not, Geosion will be running Inferno. Lundra simply doesn't deal enough damage to threaten out Geosion with Obsidian Armor up, allowing it to set up Inferno for free.
Ixoru - Check: With slash Ixoru can not only dodge Meteor Rain but do big damage to Lundra. It can also dash freeze if needed. To make matters worse, Sharpen allows Ixoru to easily outdamage Healing Bubble. It has all of the moves to beat Lundra as it is just so offensive.
Biumi - Check: Biumi killing Lundra obviously isn't the problem. The problems lies in the fact that Lundra can't ever kill Biumi either. Biumi sets up for free against Lundra, which paves the way for a boosted monster to come in to smash your team.
Team Options:
Primary Author: Panda64
Secondary Author: Ichor , Alpha Psych
Community content is available under
CC-BY-SA
unless otherwise noted.