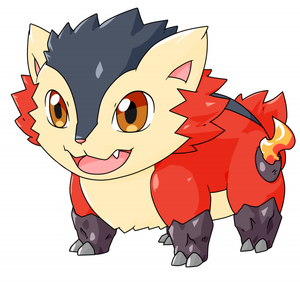 "They enjoy snuggling in hot areas, like volcanic crater shores. As it grows, it learns to cool down the magma inside its body, transforming it into hard obsidian."

Basic info
Volcub is one of the three starter monsters. If you didn't chose her, you can still get it from an Egg, although they are very rare.
Attribute: Fire / Rock
Volcub has no pre-evolution
You need 5 Rainbow Stones to change the color of your Volcub
Stats
Volcub acquires the following Health Points and Attribute Points per level:
Level
Health

Points

Attribute

Points

1
55
2
2
61
5
3
67
8
4
73
12
5
81
16
6
89
22
7
97
28
8
107
35
9
118
43
10
130
50
Moves
Volcub will learn the following moves when leveling up:
Skins
Volcub has no available Skins yet.
Strategy
Obsidian Helmet and Obsidian Armor are a must against almost all enemies. Try to keep them always active.
Fireball is really powerful. On collision, it will also destroy smaller projectiles such as Leaf Cut and Shadow Spike.
Obsidian Helmet and Obsidian Armor won't protect you against Poison Powder, Leech Root and Lumina.
The damage you take when using Headbutt will be reduced by Obsidian Armor and Obsidian Helmet

Community content is available under
CC-BY-SA
unless otherwise noted.